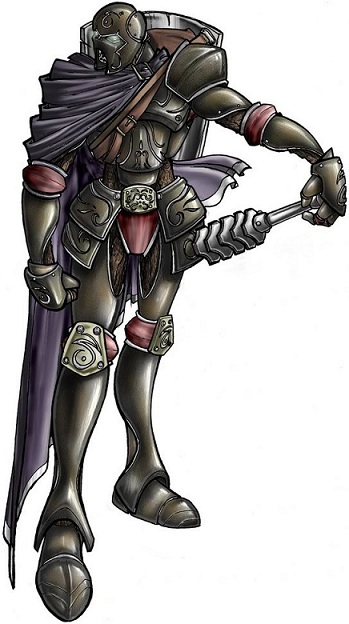 Aya 30th:


====== Created Using Wizards of the Coast D&D Character Builder ======
====== Created Using Wizards of the Coast D&D Character Builder ======
Aya, level 30
Warforged, Battlemind, Son of Mercy, Reincarnate Champion
Build: Harrier Battlemind
Psionic Study Option: Persistent Harrier
Epic Vitality Option: Epic Vitality Constitution
Extra Manifestation Option: Stormsoul
Past Spirit Option: Past Spirit (Genasi)
Past Spirit Option: Past Spirit (Githzerai)
Dragon Breath Key Ability: Dragon Breath Constitution
Dragon Breath Damage Type: Dragon Breath Lightning
Firepulse Option: Firepulse Constitution
Earthshock Option: Earthshock Constitution
Darkfire Option: Darkfire Wisdom
Arcane Student Who Saw Too Much (Arcane Student Who Saw Too Much Benefit)
Theme: Noble Adept

FINAL ABILITY SCORES
STR 24, CON 32, DEX 22, INT 22, WIS 28, CHA 22

STARTING ABILITY SCORES
STR 20, CON 20, DEX 20, INT 20, WIS 20, CHA 20


AC: 46 Fort: 50 Ref: 41 Will: 49
HP: 221 Surges: 20 Surge Value: 55

TRAINED SKILLS
Athletics +25, Endurance +31, Insight +31, Perception +31

UNTRAINED SKILLS
Acrobatics +19, Arcana +23, Bluff +23, Diplomacy +23, Dungeoneering +26, Heal +26, History +23, Intimidate +25, Nature +26, Religion +23, Stealth +19, Streetwise +23, Thievery +19

POWERS
Basic Attack: Melee Basic Attack
Basic Attack: Ranged Basic Attack
Noble Adept Feature: Adept's Insight
Warforged Racial Power: Warforged Resolve
Battlemind Feature: Battlemind's Demand
Battlemind Feature: Blurred Step
Battlemind Feature: Mind Spike
Battlemind Feature: Persistent Harrier
Son of Mercy Feature: Lawbreaker's Doom
Genasi Racial Power: Promise of Storm
Genasi Racial Power: Swiftcurrent
Githzerai Racial Power: Iron Mind
Duergar Racial Power: Infernal Quills
Gnome Racial Power: Fade Away
Dragonborn Racial Power: Dragon Breath
Eladrin Racial Power: Fey Step
Elf Racial Power: Elven Accuracy
Halfling Racial Power: Second Chance
Tiefling Racial Power: Infernal Wrath
Genasi Racial Power: Firepulse
Genasi Racial Power: Earthshock
Genasi Racial Power: Windwalker
Drow Racial Power: Darkfire
Bugbear Racial Power: Predatory Eye
Drow Racial Power: Cloud of Darkness
Githyanki Racial Power: Telekinetic Leap
Gnoll Racial Power: Ferocious Charge
Minotaur Racial Power: Goring Charge
Orc Racial Power: Warrior's Surge
Shadar-kai Racial Power: Shadow Jaunt
Longtooth Shifter Racial Power: Longtooth Shifting
Razorclaw Shifter Racial Power: Razorclaw Shifting
Deva Racial Power: Memory of a Thousand Lifetimes
Goliath Racial Power: Stone's Endurance
Half-Orc Racial Power: Furious Assault
Wilden Racial Power: Voyage of the Ancients
Wilden Racial Power: Wrath of the Destroyer
Wilden Racial Power: Pursuit of the Hunter
Changeling Racial Power: Changeling Trick
Kalashtar Racial Power: Bastion of Mental Clarity
Genasi Racial Power: Acid Surge
Genasi Racial Power: Firedeath
Genasi Racial Power: Plaguebearer
Genasi Racial Power: Void Assumption
Shardmind Racial Power: Shard Swarm
Mul Racial Power: Incredible Toughness
Thri-Kreen Racial Power: Thri-kreen Claws
Dragonborn Racial Power: Dragonfear
Dwarf Racial Power: Dwarven Resilience
Human Racial Power: Heroic Effort
Half-Elf Racial Power: Knack for Success
Embersoul Genasi Racial Attack: Ashfall Evasion
Magmasoul Genasi Racial Utility: Flowing Magma
Sandsoul Genasi Racial Utility: Sandslide
Sunsoul Genasi Racial Utility: Sun Flare
Battlemind Utility 2: Telepathic Challenge
Battlemind Attack 5: Inconstant Location
Battlemind Utility 6: Warning Premonition
Battlemind Attack 7: Lightning Rush
Battlemind Utility 10: Shadow Ally
Son of Mercy Attack 11: Dispensed Justice
Son of Mercy Utility 12: Red Death
Battlemind Attack 13: Brutal Barrage
Battlemind Attack 15: Mind Blade
Insight Utility 16: Insightful Riposte
Son of Mercy Attack 20: Blood Oath Fulfilled
Battlemind Utility 22: Psychic Feast
Reincarnate Champion Utility 26: Swift Reincarnation
Battlemind Attack 27: Brilliant Recovery
Battlemind Attack 29: Focused Rampage

FEATS
Level 1: Melee Training (Constitution)
Level 2: Harrying Step
Level 4: Defender of the Wild
Level 6: Bludgeon Expertise
Level 8: Sudden Roots
Level 10: Crippling Crush
Level 11: Lasting Frost
Level 12: Hammer Rhythm
Level 14: Armor Specialization (Scale)
Level 16: Warforged Tactics
Level 20: Wintertouched
Level 21: Extra Manifestation
Level 21: Shocking Flame
Level 22: Robust Defenses
Level 24: Iron Resolve of Zerthadlun
Level 26: Rapid Mind Spike
Level 28: Bludgeon Mastery
Level 30: Epic Will

ITEMS
Adventurer's Kit
Bag of Holding
Gauntlets of Brutality x1
Alchemical Atomizer
Cognizance Crystal (heroic tier)
Frozen Whetstone (paragon tier)
Circlet of Arkhosia (epic tier) x2
Portal Gun
Deathward Shield Heavy Shield (epic tier) x1
Iron Armbands of Power (epic tier) x2
Shadow Band x2
Crusader's Warhammer +6 x1
Shoulderbow Hand crossbow +5
Mind Hunter's Dragonscale Armor +6 x1
Ring of Free Time x1
Airstriders x1
Cloak of Distortion +6 x1
Mummified Hand
Solitaire (Violet)
All-Seeing Eye
Greater Flying Carpet (paragon tier)
Dust of Appearance
Stone of Light
Bottled Smoke (heroic tier)
Pouch of Platinum
Siberys Shard of Radiance (epic tier)
Frozen Whetstone (epic tier)
Diamond Cincture (epic tier) x1
Ring of the Phoenix
====== End ======

History:


Several millennia ago when magic was common the city of Atlantis was besieged by creatures of the night who were bent on enslaving the world.

As one of the cities greatest warrior, Aya (female Water Genasi, psychic warrior) led many fights against the oncoming undead forces. She slew many vampires and their minions and struck fear into creatures who've never known fear. The undead, knowing of a prophecy which said she would be instrumental in their defeat overran the area she was defending. Aya fell in battle against the undead; luckily her body was recovered by her teammates.

Not wanting to part with his wife just yet Daymar found a way to transfer the essence of his wife into a new form, that of a Warforged. The transfer was complete, but before she could be fully activated his lab as well as the whole city was submerged. Daymar was killed by falling debris and Aya remained "sleep" until only recently.

Giles (you can use another watcher or someone who works for Giles if you like), found a tome describing the city of Atlantis and sent a team to investigate and possibly uncover some magic that can be used against the vampires.

During the search the team found Aya. Once power was applied to the unit she was encased in, she was awoken from her long slumber.

Zodiac Symbol:
Each warforged has a unique rune on its forehead, much like humans have unique fingerprints. This rune is known as a "ghulra," a word that means "truth" in Primordial.
Aya's ghulra is a violet Gemini (about 3" in height).
Notes:


Name pronounced I-ya.

Projected Epic Destiny: Reincarnate Champion
(genasi water soul as her 1st previous life)

Currently using the same Zodiac symbol as what Angelus had.

The following items are embedded:
Iron Armbands of Power
Circlet of Arkhosia
Bag of Holding
Belt of Raging Endurance
Winged Boots
Shoulderbow
Alchemical Atomizer
Delver's Light

The following items are attached:
Mind Hunter's Wyrmscale Armor
Deathward Shield Heavy Shield

Extra Items in Bag of Holding:
War Hammer (2)
Hand Cuffs/Zip Ties 3/7
Cell Phone
Mirror


Brutal Barrage Damage
Brutal Barrage allows for 3 attacks + 1 if a psionic point is expended
Brutal Barrage does Con damage on a hit
+2 extra damage on hit from Cold Whetstone
+Wis damage against a "Law Breaker" and the target is Slowed
+Con damage when using an attack that Slows

BB damage is Con+Con+Wis+2 = 8+8+7+2 = 25

Hammer Rhythm does Con damage on a miss

4 attacks, all misses does 4x8 = 32 damage
4 attacks, 1 hit does 3x8 + 1x25 = 49 damage
4 attacks, 2 hit does 2x8 + 2x25 = 66 damage
4 attacks, 3 hit does 1x8 + 3x25 = 83 damage
4 attacks, 4 hit does 4x25 = 100 damage

Cold vulnerability from Lasting Frost deals another 5hp per hit



Last edited by Dwarmaj on Sat Oct 15, 2016 2:34 pm; edited 43 times in total